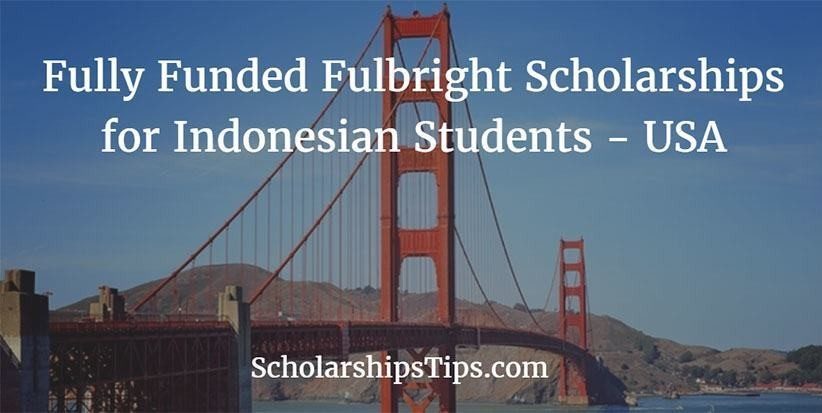 HOW TO APPLY : Visiting Website Fulbright Scholarships for Indonesians
General Description
Fulbright scholarships are available to Indonesian citizens to undertake graduate degree study or advanced research at a US university in a variety of fields.
The MA and PhD scholarships support two and three years of graduate study respectively at a US university. The Visiting Scholar Program allows an Indonesian holding a doctoral degree to carry out research for three to six months at an American university.
Selection preference will be given to candidates who have not had extensive recent US experience, for example those who have previously received a Fulbright scholarship. Candidates will be considered without regard to race, color, religion, sex, national origin, age, disability, political affiliation, marital status, status as a parent, or sexual orientation. Applications from qualified candidates beyond major cities on Java, e.g., eastern Indonesia, are particularly welcome.
(A special program, DIKTI-funded Fulbright Grants for Indonesian Lecturers, funded by the Indonesian Ministry of Research, Technology, and Higher Education, provides Fulbright scholarships for current lecturers at Indonesian universities. General requirements are similar, but there are some salient specific eligibility requirements as well. This program is currently on hiatus in Award Year 2021-2022 pending funding decisions from the Indonesian Ministry of Education and Culture. Prospective applicants may still apply to the Fulbright Doctoral Degree (PhD) Scholaship.)
General Requirements
The applicant should:
Be an Indonesian citizen and not a permanent resident or citizen of the US, or be currently living in the US
Possess leadership qualities and show experience in community service
Have preparation in, and a demonstrated commitment to their chosen field of study
Be proficient in English
Have an outstanding academic record
Demonstrate that they can realistically accomplish full-time graduate study or conduct research in the US
Demonstrate a strong commitment to return to Indonesia upon completion of the Fulbright scholarship program
Be willing to work for at least five years before retirement upon the completion of the scholarship program
An applicant will be ineligible if he or she is:
An employee, close family member of an employee, or dependent of an employee of AMINEF, the US Embassy, or the US Department of State
Currently pursuing another degree
Receiving another scholarship at the time of the application
Pursuing another similar program for a double degree
Submission Requirements (to be supplied in English)
Completed application form, including one-page study objective for master's and PhD scholarships, and 3-5-page research proposal for PhD and Research scholarships
Copy of most recent (less than two years old) TOEFL ITP or IELTS scores
Two letters of reference, either from an employer or a university lecturer
Copy of academic transcript and diploma (in original language and in English translation)
Copy of valid identity document (KTP or passport)
Curriculum vitae
Grant Benefits
The scholarship will provide the following benefits:
J-1 visa support
Round-trip economy class air travel from scholarship recipient's home city to the host institution in the US
Funding for tuition and fees, living and related costs
Accident and health insurance coverage per US Government guidelines
Support is not provided for accompanying dependents.
Eligible Fields of Study
Fulbright grants may be used for study or research in most disciplines and fields of study with the exception of medicine related to patient care or clinical patient contact. Proposals in humanities, arts, and social sciences, and in science, technology, engineering, mathematics (STEM), and health are equally welcome. Particularly welcome are applications in STEM fields that focus on environmental preservation, alternative energy exploration, or climate change mitigation.
Required Tests
At the time of application to AMINEF only a TOEFL Institutional Testing Program (ITP) or IELTS score is required. If you are later selected for an award, you must then take the official TOEFL iBT (Internet-based TOEFL) test, the Graduate Record Examination (GRE) for all fields except law and business, or the Graduate Management Admission Test (GMAT) for business administration, finance, and accounting.
Timeline
Master's and PhD Scholarship
Application Deadline*: February 15
Application Screening: March
Interviews: April
Shortlist Announcement: June
Visiting Scholar Program
Application Deadline*: November 1
Application Screening: November
Interviews: December
Shortlist Announcement: January
*Exact deadlines every year may be subject to change and if the application falls on a weekend or public holiday, it is automatically extended to the following work day.